Producer of an Emmy award winning event and Magician David Thomas has developed a new and innovative way to present quality entertainment in a comprehensive, cost effective form for corporate and special events. Whether it be with a hilarious one man comedy magic show or a grand scale Las Vegas style illusion show for the largest of groups, he answers the unknowns of magic… What do I get? What does it cost?  What must I do? – with an easy to understand choice of programs presented in a clear and simple selection process.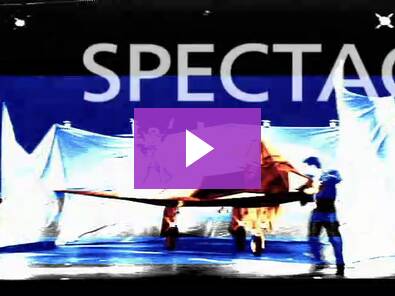 Bring the WORLD OF MAGIC to your next event. This "WOW" over the top production incorporates stunning costumes, high energy choreography, heart-stopping illusions and state of the art production elements.
Find out more about the different show levels of The World Of Magic below or Contact Us for more info!
Genesis Banquet Entertainment

Genesis is The World of Magic's entry level production. An "intimate" show with three major illusions, and lots of audience participation. If you want 45 minutes of good clean comedy interaction magic with some of the most amazing illusions in magic, then Genesis is the perfect production for your event. Included is our "Black Diamond" stage set and the production of your VIP with our real "Magic Carpet."
Imaginaria

If you want to raise the production level, then Imaginaria is the show for you. Six spectacular illusions are performed with outstanding costuming and choreography. Included is the "Black Diamond" stage set and lots of comedy and audience interaction. This is the perfect production to open your event with a "machine gun magical opening" and then the magical production of your VIP. This eight minute routine will set the tone for the "WOW" evening your guests are going to experience. After dinner, David Thomas and The World of Magic cast can create up to an hour of "Magic" your guest will never forget.
Odyssey

If you want to bring Las Vegas to your event, then Odyssey is the production for you. With Ten of the largest and most spectacular illusions, normally not seen out of a Las Vegas stage. David Thomas and his team of beautiful dancers will provide and "WOW" evening your guests will never forget. Included is our "Black Diamond" stage set and the production of your VIP on a real Harley Motorcycle! Stunning costumes, high end choreography, hilarious comedy make this the best value in the Corporate Event Market.
MagicQuest – Las Vegas Style Corporate Entertainment

If you are looking for a real "Las Vegas" spectacular then consider "MagicQuest" This production includes the largest illusions in magic. Including the largest touring illusion in the World of Magic, the "Death Drill." This state-of-the-art customized shows will fill the largest of venues. MagicQuest is an unforgettable show that will keep your audience talking for years to come.
GET IN TOUCH WITH US TO FIND OUT ABOUT THE REST OF OUR SHOWS